I have recently been working on some research for some Eighth Air Force veterans and their families, and the topic of the new Tom Hanks miniseries about the Mighty Eighth has come up a lot.  I am a huge fan of the work of Hanks and Spielberg and over the last five years, I've been keeping my own personal notes on what I have been able to find out about the miniseries.  I've basically been updating a document full of notes any time the project is mentioned in a veteran interview, discussion with someone who is working on the project, or any time an article is published about the project.  Since I get asked about it a lot as well, I thought it would be helpful to put all my notes together in a more organized format and post it here.  I will also update this page any time I find new information on the project. 
If you see any errors or if you have any info that you think I should include, please feel free to comment below or send me an email: dan@footstepsresearch.org 
Info below updated on January 17th, 2019
Overview
Masters of the Air will be the third time Steven Spielberg and Tom Hanks team up to create a WWII miniseries for HBO.  The series will follow the same 10-episode format, with each episode approximately 80 minutes in length. There is no official word that this will be the last miniseries of a WWII trilogy for Hanks and Spielberg, but there is also no indication of any future projects.  I personally hope Hanks and his team continue to do a miniseries every ten years until 2040 when Hanks would be 84.  That would mean a total of five miniseries!  But for now, let's just focus on the third one, Masters of the Air.
What will the name of the series be?
There is a lot of speculation on the name of the series, and there is a good chance that the title hasn't even been decided yet.  However, the most likely name will be "Masters of the Air".  There has been talk of the miniseries title being changed to "The Mighty Eighth", but there seems to be no evidence of this anywhere.  This rumor is probably a result of a what appears to be a fake teaser video that was uploaded to Youtube in 2014 titled "The Mighty Eighth – Exclusive Teaser Footage".   The teaser video is poorly done in many ways and there is absolutely no indication that the video is in any way related to the miniseries by Hanks and Spielberg.  In fact, the opposite appears to be true. That video appears to be a different project/movie entirely, and should not be considered in any way related to the HBO project.  The idea that Hanks and Spielberg would have been required by HBO to put together a proof of concept to give them a green light to do anything is absurd, not to mention the fact that it would have never been allowed to be released even if they had made a proof of concept.  Take my word for it and ignore that 2014 video, it has nothing to do with the real series.
When will Masters of the Air begin airing on TV?
There is also a lot of speculation about the dates when it comes to both filming and eventual release.  If the length of time it took to produce Band of Brothers and The Pacific are any indication, the most likely timeline is that Masters of the Air will begin filming in 2019 and begin airing in late 2020 or early 2021.  That also follows the ≈10 year gap between each series, Band of Brothers in 2001, The Pacific in 2010, Masters of the Air in 2020 or 2021.
Style and Themes of Masters of the Air
Everything we have heard about this project so far has indicated that the series will be of epic proportions.  I heard a budget figure in 2016 of $375 million and have even heard a couple of sources say the budget is as high as $500 million.   Writer and Historian Don Miller, who consulted on HBO's The Pacific, quoted Tom Hanks as saying "If this isn't the best war film ever made, I don't want to make it."  Don went on to say that Spielberg feels the same way as Hanks. Tom Hanks has turned his office into what looks like an Eighth Air Force museum, complete with model airplanes hanging from the ceiling.  He has reportedly read Miller's book Masters of the Air more than six times.
"If this isn't the best war film ever made, I don't want to make it."
– Tom Hanks, discussing Masters of The Air in 2016
Just like in Band of Brothers and The Pacific, there will be interviews of the actual veterans featured either before or after each episode.  The filming of Eight Air Force veterans started back in 2011 and has been continuing through today. Many of the interviews were done at the Eighth Air Force Museum in Savannah, Georgia.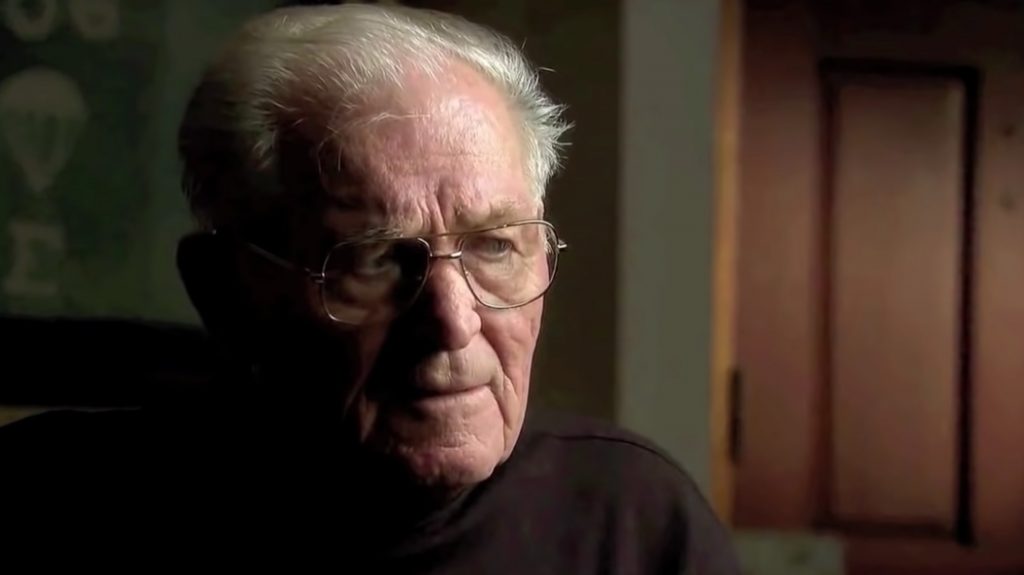 The series will be much more grounded in the actual realities of WWII and will try to avoid being too much of just a "celebration of America" and/or triumphalism.  The mood of the series will mirror that of movies such as Das Boot and show the brutality of WWII like movies such as Schindler's List.  This series will not be shying away from any violence, language, or sensitive topics.  The air war was brutal and has some stories of deaths that are unimaginable, and this series will most-definitely feature a couple of those stories.  A good example of a story that could be featured briefly during a scene on base would be the Andy Rooney story about a ball turret gunner who was crushed to death.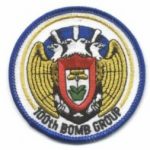 I have more on this below, but as of right now, it appears the series will focus on both air crew and ground crew of the 100th Bombardment Group who were stationed at Thorpe Abbotts Airfield during the war.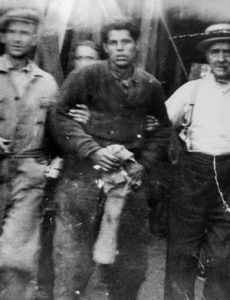 A big part of the series will be dedicated to a storyline about downed airmen who were either killed, captured and became POW's, or were helped to evade capture by underground movements.  This will include scenes at POW camps where they were kept, most likely Stalag Luft III, the POW camp run by the Luftwaffe. The storyline will most-likely show what happened to airmen who were in POW camps as well as follow some downed airman who are helped by the Belgian or French Resistance to make the long and frightful journey to British Gibraltar and eventually back to England.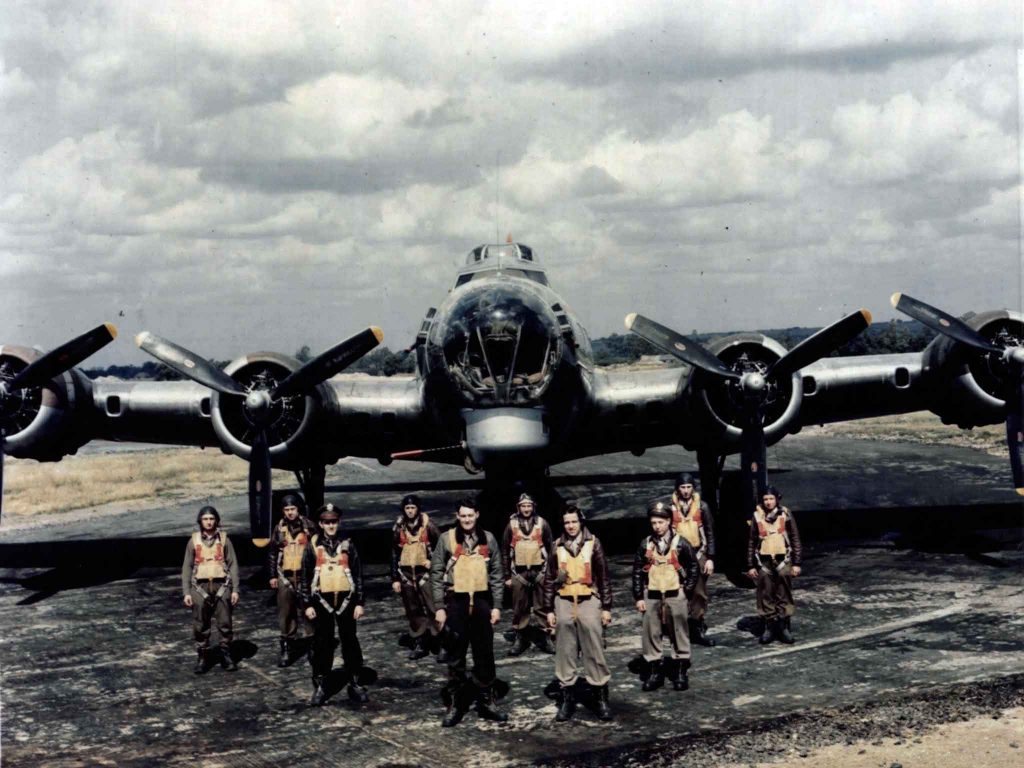 According to one of the consultants on the project, there will be two major themes explored in Masters of the Air:
Answering the question of how did men of such a young age mentally and physically get themselves into those planes for each mission and how did they deal with and overcome mental challenges before, during, and after missions?


Demonstrating just how unique air combat was, especially in contrast to ground combat, and how a crew of ten men really fought as one unit.   Humans simply can't survive at the altitudes the airmen fought at, and because of this, the men had to gear-up specifically for high-altitude warfare.  Much of this equipment had to be connected to the plane's system in order to work. The electric-heated suits kept them from the deadly cold, the oxygen masks kept them breathing, and their radio headsets allowed them to communicate.  In other words, these airmen were tethered to and a part of the plane itself, all ten individuals inside becoming one machine.
Who is working on Masters of the Air?
It is no secret that Tom Hanks and Steven Spielberg are both already involved, as is consultant and writer Donald Miller who wrote the book that the series is based on, Masters of the Air: America's Bomber Boys Who Fought the Air War Against Nazi Germany (Simon and Schuster, 2007).   Gary Goetzman, who co-executive produced both Band of Brothers and The Pacific, is also involved again in Masters of the Air.  Don Miller is pictured below with Hanks.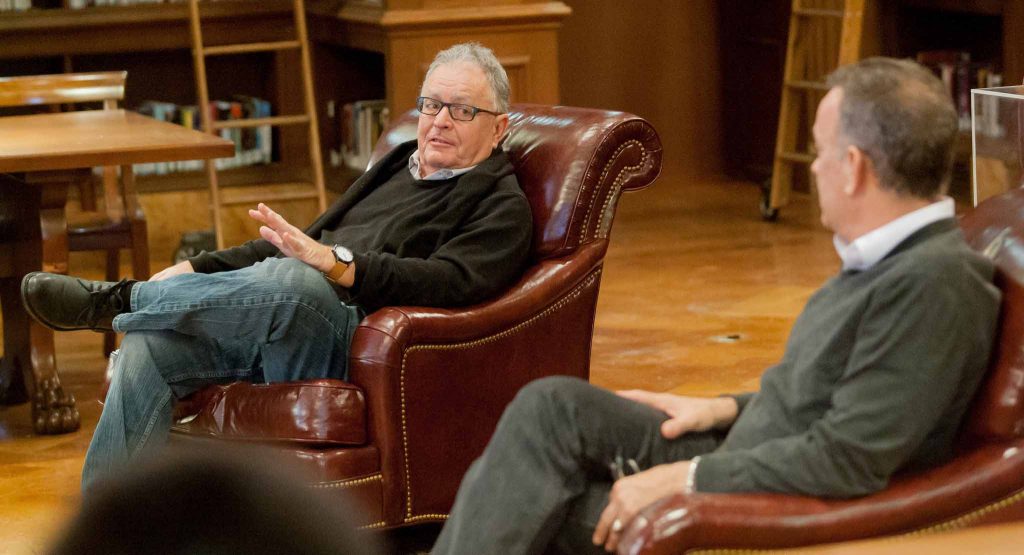 Some time in 2015, Tom Hanks had originally hired John Shiban, a former writer and producer on Breaking Bad, to help give the series the edgy tone he desired.  John's job was not to write a script, but rather he was asked to write a 300-page bible, featuring central themes, main characters, and storylines. After Shiban completed the initial storylines, Hanks and Spielberg were left unimpressed and decided to part ways with Shiban and remove him from the project, most likely delaying the project at least a year.
Screenwriter John Orloff, who wrote two episodes of Band of Brothers, has been hired to write an unknown number of episodes for the new series as well.   One of the episodes that Orloff is working on will feature the Schweinfurt-Regensburg mission of August 17th, 1943. Within the 80 minute episode, there is a 70-minute stretch that takes place only inside of two B-17 planes, showing no views from outside the planes.  You will only see what the men inside each of the planes saw, during the battle as they fight for their lives amid the chaos.   It's important to note that the two Band of Brothers episodes that Orloff wrote are two of the top three rated episodes of the series, including episode eight, "Why We Fight", which is the overall top rated episode.   In September of 2018, Orloff confirmed via twitter he was working on the project and in December 2018 he tweeted a reply when asked about my article that read: "Really can't comment…. sorry! I know it's frustrating how slowly things are moving….but it is extremely complicated project, lots of moving parts, & I am the only writer, and TONS more research has been required than on the other 2 projects, etc…"
Really can't comment…. sorry! I know it's frustrating how slowly things are moving….but it is extremely complicated project, lots of moving parts, & I am the only writer, and TONS more research has been required than on the other 2 projects, etc….

— John Orloff (@johnorloff) December 22, 2018
Storyline and Major Characters
There are four main characters that have their stories woven together and are followed throughout the entire series.  There will be no composite characters (fictional characters based on more than one actual person). Tom Hanks has been adamant that every single character in the series will be based on one specific real person.  During filming of Masters of the Air, as was done in The Pacific, each actor will try and talk to the actual veteran they are portraying every day. If the veteran is no longer living, they will talk to that person's family members.  Hanks and Spielberg are big believers in this sort of immersion for the actors as they try to become the people they are portraying.
It seems likely that the series will mostly follow action and storylines of veterans within just one bombardment group, potentially just one squadron within that group.  They will go as narrow as possible in order to mirror the style of personal storytelling that made Band of Brothers so powerful. Focusing just on one platoon within Easy Company allowed for such great character and story development over ten episodes, so look for Orloff and the other writers to attempt that style again instead of what we saw with The Pacific, which focused on three different regiments of the 1st Marine Division.  I am not knocking The Pacific. I loved the series. But there was a noticeable difference in trying to tell too large of a story in only ten episodes. Trying to tell the entire story of the Eighth Air Force is just not possible in ten episodes, but telling just a couple of veteran's stories in great detail and depth can do justice to what the entire Eighth went through during the war.
All indications point to the 100th Bombardment Group, known as The Bloody Hundredth, as the focus of the series.  Like I mentioned earlier, it will probably be more narrow than that, down to something as narrow as just the story of two planes.  However, since we know there are ground crew veterans featured, it will feel more like the focus is on a squadron.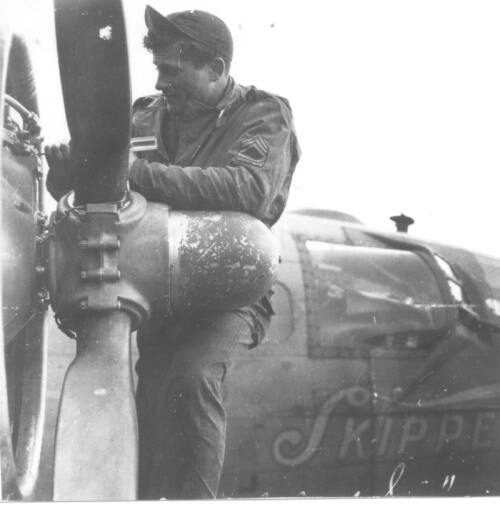 Here are confirmed characters so far:
Master Sergeant Kenneth "Ken" A. Lemmons – A Ground Crew Chief and mechanic with the 100th Bomb Group, 351st Bomb Squadron (pictured above).  The ground crew is often overlooked when discussing the Eighth Air Force, but there appears to be an effort by the producers to include a storyline that follows the ground crew and sources have confirmed Ken will be the one featured.  He was in England for nearly the entire length of the war.
Lieutenant Colonel Robert "Rosie" "Bob" Rosenthal – Pilot with the 100th Bomb Group, 418th and 350th Bomb Squadrons.  Rosenthal is one of Masters of the Air writer Don Miller's personal heroes, and much of his book features Rosenthal's stories.  Here is a brief bulleted list of the many times Rosenthal's personal war story intertwines with the Eighth Air Force as a whole:

Rosenthal flew more than 50 missions over Germany, when most veterans only flew between 25-35 combat missions.  In other words, he was around longer and his personal timeline see almost twice as much of the overall war timeline than a typical Eighth Air Force veteran.
He flew on the October 10th, 1943 mission over Münster. It was only his third mission with the 100th, and he flew the only plane out of the thirteen B-17s from the 100th squadron to return to base.  His plane had two engines dead, the intercom and the oxygen system was non-functional, and the plane had a large hole in the right wing.  
He was shot down twice, both times making it back to England.  The first time he was shot down, in September 1944, he landed in German occupied France, breaking his right arm and nose during the process. He was rescued by the French Underground Resistance and returned to duty after he healed.
The second time he was shot down was over Poland.  He landed in Soviet-held territory, but the other members of his crew were either killed in the crash or were captured by Germans.  We already know POW and downed airmen will be a central storyline to the series, and when you combine that with the fact that Miller, the lead historian on the series, already knows so much about Rosenthal, it makes sense why he will be one of the featured characters.  
Rosenthal ended up serving as an assistant to the U.S. prosecutor at the Nuremberg Trials, where he interrogated Hermann Göring.  Which could be tied into a final episode, similar to the last episode of The Pacific where we see the veterans back home. Note: Robert Rosenthal died on April 20, 2007.

Air Crew, name unknown.  Shot down and captured within six months of arriving in England.
Red Cross Girl, name unknown – The character is based on a real Red Cross Girl who kept a diary of her time with the 100th Bomb Group in England.  She will probably not be one of the four main characters, but will play a major role in the series.  This will be the first woman featured in a WWII miniseries who is serving overseas.  This should be a very powerful character and one that will help spread the awareness of how much of an important and under-appreciated role hundreds of thousands of women had in WWII.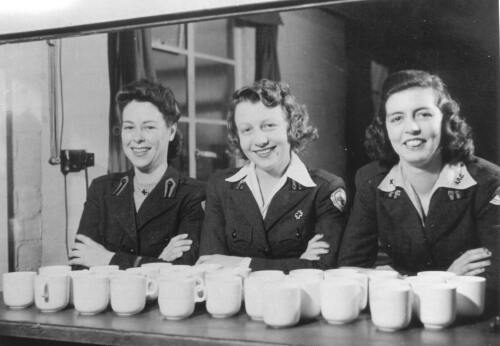 How to prepare for the series:

I'll keep adding to this list, but here are some ways to keep busy and prepare yourself for the series:
Reading Masters of the Air by Donald Miller is an absolute MUST.  The book is incredible and gives you a great base of knowledge on the air war over Europe.  You can get it on Amazon here.
You can begin researching the 100th Bomb Group, which appears to be the most likely outfit that will be featured.  The 100th has a really great website full of documents, photos, and research.
Read the lesser known book called A Wing and a Prayer.  It is written by a 100th Bomb Group veteran named Harry Crosby.
Read this article to learn about the underground operatives that helped downed crewman escape back to England.
Read about the Schweinfurt–Regensburg mission.  A good start is Edward Jablonski's 1974 book called Double Strike: The Epic Air Raids on Regensburg-Schweinfurt, August 17, 1943.  
Read about Black Thursday, AKA the Second Raid on Schweinfurt, which occurred on October 14th, 1943.
Read the famous article by Doris Fleeson called I Keep a Rendezvous with Heroes that was written around the time of the Schweinfurt–Regensburg raid.
Watch Band of Brothers and The Pacific if you haven't already!
If you see any errors or if you have any info that you think I should include, please feel free to comment below or send me an email: dan@footstepsresearch.org