USS Hughes Fights in Battle of Sansapor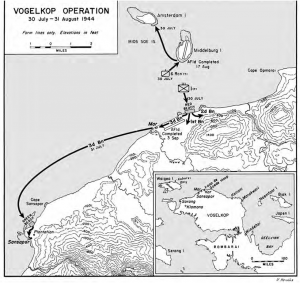 David had very little time to get acquainted with his new ship before seeing action.  Only one week after coming aboard, the Hughes joined Navy Task Force 77, a total of 60 ships(see photo above), and participated in the invasion of Sansapor.  The Hughes was assigned submarine screening duty with two other destroyers in the pre-dawn morning hours on July 30th in preparation for the barrage the next day.
July 31st would be the first major action David would see in WWII.  At 8:35am, the Hughes began a bombardment of a Sansapor village, which contained about 100 Japanese soldiers.   They fired 100 rounds in only 20 minutes from 1,900 yards away, changed their target to another area of the village, and fired 100 more rounds for another 20 minutes.  After the assault, there was no signs of enemy activity ashore.
The assault by the USS Hughes was a resounding success and allowed U.S. troops from the 3rd Battalion landing on Green Beach east of the village to successfully secure the area(click map to enlarge).  During the course of the events on July 31st, the USS Hughes is believed to have traveled further West than any other major U.S. Navy vessel since the start of the WWII.
The success at Sansapor isolated over 15,000 Japanese troops and culminated 13 months of successive amphibious operations extending the Allied line more than 1,200 miles along the New Guinea Coast.
Here is some footage of the U.S. assault and landing at Sansapor: